The bibcock tap is a type of faucet used for controlling the flow of water in a plumbing system. It is usually installed near fixtures that use water. Bibcocks are commonly used in bathrooms and kitchens. They can be found in brass or plastic. Some bibcocks are designed to act as a direct-acting valve.
Bibcocks are used for both outdoor and indoor plumbing systems. A bibcock is usually made of brass, but can also be made of metal, stainless steel or other materials. Brass bibcocks can withstand water pressure up to 12-16 bars. These taps come in a variety of styles and finishes, such as chrome, matte or gold. Bibcocks are available in a wide variety of sizes and have a lifetime warranty.
If you want to replace your bibcock, you will need to find a plumber. This may be necessary if you have a complicated plumbing system or if you want to change the type of faucet you use. You should also make sure that your water supply is turned off before working on the valve.
A bibcock is made up of three parts. It includes the body, the inlet threads, and the outlet threads. Each part works to control the flow of water. To install a bibcock, you will need to tighten the pipe, clean the inlet and outlet threads, and wrap thread seal tape around the inlet thread.
In addition to a bibcock, you can also purchase a spigot. This is a type of tap used to fill and drain a spigot or basin. These are typically installed in bathroom toilets or kitchens. Depending on the style of spigot, you can get a tap that has a handle that goes out and down, or a spigot with a lever that goes up and down.
Bibcock taps are widely used in Indian homes. In addition to being a great tool for controlling the flow of water, a bibcock is an efficient way to save money on water. Using a bibcock for your water supply will also help to prevent leaks and keep your faucets free of debris.
You can choose from a variety of bibcock styles, including a long-body bibcock, a bibcock with a bent nozzle, and a 3-in-1 bib tap. All of these have an extra opening that will give you more room between the wall and the water drop point. Also, the extra length of the nozzle gives you more room to fill a wide bucket.
A bibcock is often used in kitchens, but can also be used in other areas of your home. Typically, the bibcock has a small rod called a jumper. When the rod is bent, it allows you to connect the tap to a faucet or pipe. However, you need to take care not to bend the bibcock too much, as it can cause the faucet to become loose and can lead to leaks.
Bibcock taps are made from brass or plastic,
but you can also get a tap that is made from bronze. Many bibcock taps are sold at a low cost, which makes them an excellent option for budget-minded consumers.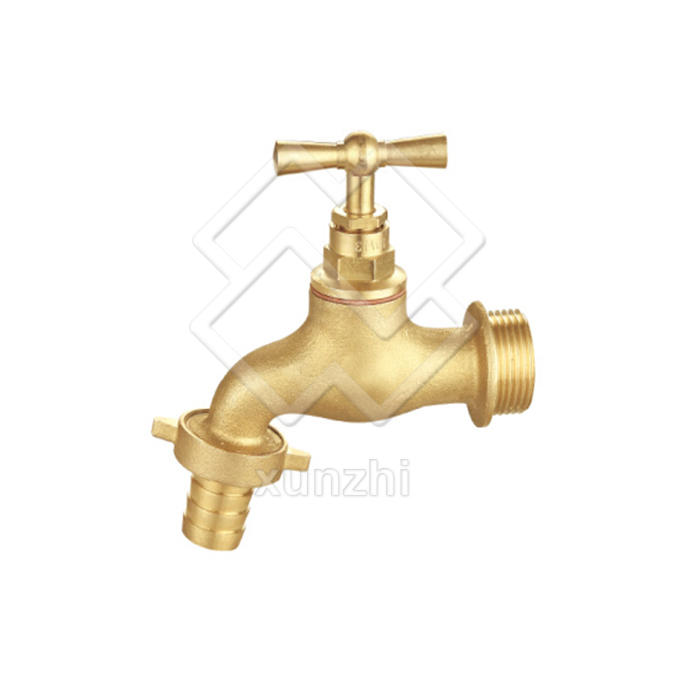 XFM08001 Top Sale Polished Nature Color Wall Mounted Brass Water Faucets Outdoor Garden Tap
| | |
| --- | --- |
| Location: | China |
| Business Type: | Manufacturer, Exporter |
| Brands: | Xunzhi, OEM |
| Certificate: | CE, ISO9001:2015 and etc. |
| Terms of payment and delivery: | Pay 30% deposit before producing and70% balance against copy of documents |
| Minimum order quantity: | No minimum  |
| Price: | Consultation |
| Packing details: | Box Packages |
| Delivery time: | 10~25days |
| Payment method: | Common way is by T/T. L/C is also acceptable. |