Using a Swing Check Valve in your piping system is important, because it helps to prevent backflow. Check valves are used in a variety of applications, including plumbing, water treatment, and firefighting. They can be installed horizontally or vertically, depending on the application. Check valves can be made from a wide variety of materials, including stainless steel and bronze. These materials have many useful properties, and they are suitable for a wide range of applications. They are also low-cost and easy to maintain.
The swing check valve uses a hinged swinging disc that prevents fluid from flowing backward. When the pressure at the inlet of the valve drops, the disc swings back onto the seat to prevent backward flow. In addition to stopping backward flow, the swing check valve also prevents water hammer. This occurs when non-compressible fluid makes a pressure wave that exceeds the pressure of the system's downstream equipment.
The swing check valve can also be used as flood prevention in sewage systems. However, a faulty check valve can cause other system components to fail. It is important to understand the causes of failure, so that you can identify and correct the problem before it becomes serious. There are a number of common causes of failure, including foreign material, cross threading, and leakage. If you suspect that your valve is defective, you should contact a valve expert who can help you identify and remedy the issue.
Swing check valves are a common choice for applications where high-volume fluid is present, such as in water pumping systems. They also offer the benefits of low pressure drop and minimal turbulence. However, they are not ideal for solid media. It is important to ensure that the check valve is installed correctly.
The swing check valve's design is fairly simple, but it is important that you ensure that you install it correctly. It should be positioned facing the flow direction and that you check it regularly to ensure that it is free of foreign material. You can also install limit switches that can be used for remote monitoring. It is also a good idea to have a guard on the lever and weight to prevent injuries.
The swing check valve has a short disc stroke that allows it to open and close quickly.
It is also sensitive to small changes in pressure. It also features a flap that seals the orifice and reduces leakage. It is also easy to clean and re-process. The valve can also be made from brass, which is less expensive than steel.
The swing check valve is a member of a group of automatic valves. It works like a butterfly valve, but the flow path is created by the hinged swinging disc. When the pressure in the inlet of the valve drops, the flap closes quickly. This seals the orifice and reduces the leakage of the body components.The swing check valve is a cost-effective option for applications in which a low pressure system cannot support a regular flow of fluid. It is also easy to maintain, and it can be used in vertical or horizontal pipes.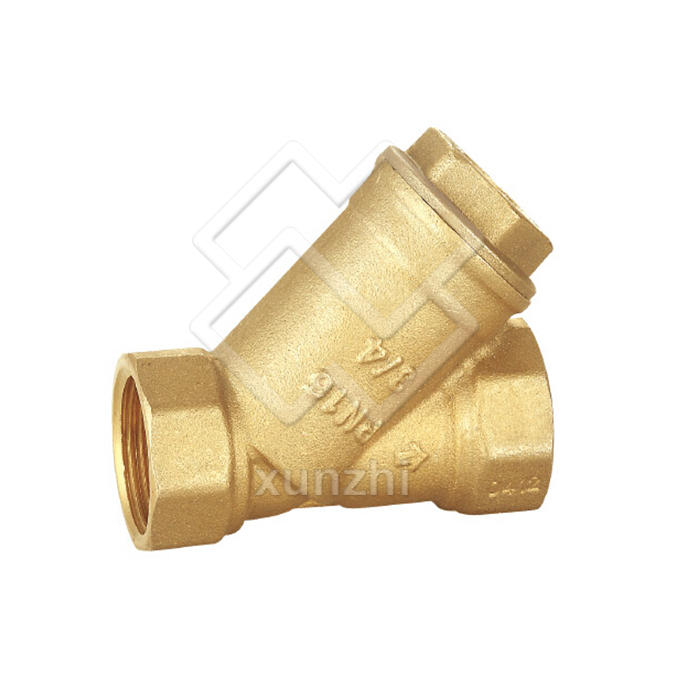 XFM05001 Brass Y Type Strainer Check Valve /Brass Filter Valve Y Strainer
| | |
| --- | --- |
| Location: | China |
| Business Type: | Manufacturer, Exporter |
| Brands: | Xunzhi, OEM |
| Certificate: | CE, ISO9001:2015 and etc. |
| Terms of payment and delivery: | Pay 30% deposit before producing and70% balance against copy of documents |
| Minimum order quantity: | No minimum  |
| Price: | Consultation |
| Packing details: | Box Packages |
| Delivery time: | 10~25days |
| Payment method: | Common way is by T/T. L/C is also acceptable. |