A mixing valve system is a great way to regulate the temperature of your hot water supply.
While most people only use a limited amount of hot water every day, this device can help you conserve energy by supplying hot water at a precise temperature. In addition, this type of valve also adds an extra layer of safety to your hot water system. It prevents wasteful hot water waste and water that is too hot to touch.
A mixing valve system that has a circulation pump and is connected to a water heater will force the hot water through the mixing valve even when there is no flow from the faucet. Otherwise, cold water will not be able to enter, which causes temperature and pressure fluctuations. This is why most mixing valve manufacturers recommend splitting the return piping after the circulation pump. In this way, the cold water supply can circulate to both sides of the mixing valve during off-peak hours.
This device is important because it prevents cross-flow between the hot and cold supply lines, which can lead to scalding. Additionally, it prevents hot water from accidentally flooding into a cold shower, which can be dangerous to users. Because it is used in multiple showers, this type of mixing valve must comply with 2006 IPC Section 424.4, Multiple (gang) showers.
There are many different types of mixing valve systems. For example, there are three-way valves and four-way valves. They can be thermostatic or manual, and they can be used for cooling, central distribution, hot water, ventilation, or solar systems. In addition, thermostatic mixing valves are designed to control the temperature of hot water.
Thermostatic mixing valves have a hot and cold side and balance the temperature between the two supplies. They also balance pressure and compensate for pressure differences. Thermostatically controlled mixing valves are installed at the water heater or in a tankless coil. There are also traditional mixing valves for water heaters.
Thermostatic mixing valves use a thermal motor to control their temperature. The motor can be a bi-metal coil or a paraffin wax or alcohol liquid-filled thermal sensing element. When one supply stops or fails, the other is adjusted to maintain the temperature of the mixed water.
In larger buildings, mixing valves are a common way to deliver hot water. This is because hot water in storage tanks must remain above a certain temperature, which would burn anyone using it. By mixing cold water with hot water, the mixing valve system can ensure that hot and cold water are mixed to the desired temperature, thereby reducing the risk of scalding.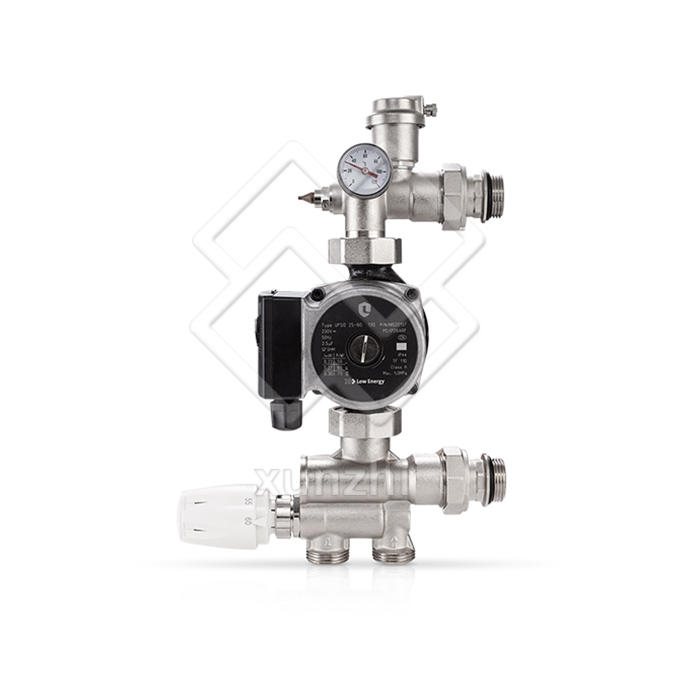 Product Details
| | |
| --- | --- |
| Location: | China |
| Business Type: | Manufacturer, Exporter |
| Brands: | Xunzhi, OEM |
| Certificate: | CE, ISO9001:2015 and etc. |
| Terms of payment and delivery: | Pay 30% deposit before producing and70% balance against copy of documents |
| Minimum order quantity: | No minimum  |
| Price: | Consultation |
| Packing details: | Box Packages |
| Delivery time: | 10~25days |
| Payment method: | Common way is by T/T. L/C is also acceptable. |