Swing Check Valve Versus Spring Check Valve
A swing check valve is a type of safety valve that prevents backflow in liquid or plumbing systems
. Its design provides maximum flow performance with minimum pressure loss or turbulence. One drawback to swing check valves is that they contain lead, a toxic metal known to cause cancer and reproductive harm. Therefore, it is important to choose a swing check valve that is free of lead.
Swing check valves are commonly used in piping systems. They can be installed horizontally or vertically and are designed to prevent reverse flow. This type of valve is suited for a variety of industries. While it does not require external power to function, it is not recommended for potable water systems.
A spring check valve is more versatile than a swing check valve. A spring check valve is more efficient and versatile than a swing check valve. It is also capable of horizontal and vertical installations. The pressure of the spring will hold the disc in place and close it when there is a pressure drop. However, this design also offers a higher degree of resistance to flow.
Swing check valves can be used to stop the flow of liquids or gases, as well as prevent flooding. Their low cost allows them to fit easily into a variety of budgets. They can also prevent water hammer, which is a banging sound in piping systems when pressure exceeds a set level.
A proper maintenance schedule and proper installation can significantly increase the life of a check valve. Properly cleaning and lubricating the valve will prevent corrosion and ensure its longevity. Regular flushing of the piping system can help remove any settled debris and minimize contaminant deposition. Proper lubrication can also improve the overall efficiency of a check valve.
A swing check valve is similar to a butterfly valve, but the difference between the two is that the hinged disc is open when the flow is moving in one direction and the disc is closed when the flow is traveling in the opposite direction. A swing check valve is generally installed on a pipe in a confined space. This type of valve is also easy to install and requires little maintenance.
A spring check valve has a different design than the swing check valve. It uses a ball as the sealing seat, which is located close to the inlet orifice. It is best for applications that require high pressure and are exposed to high pressure. These valves are often used in gas pipelines and compressors, and can prevent gas leaks.
A swing check valve is connected to the pipeline with a flange or threaded connection. This connection prevents leakage and ensures a tight fit.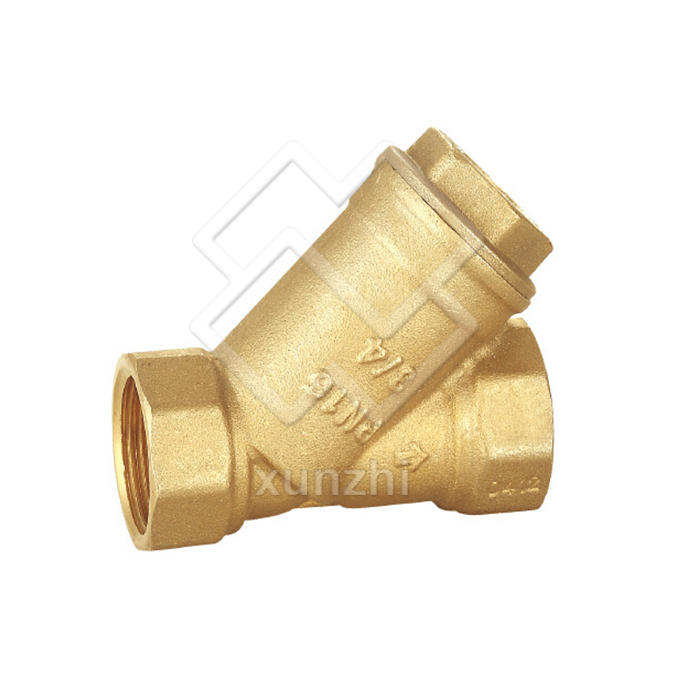 XFM05001 Brass Y Type Strainer Check Valve /Brass Filter Valve Y Strainer
Product Details
| | |
| --- | --- |
| Location: | China |
| Business Type: | Manufacturer, Exporter |
| Brands: | Xunzhi, OEM |
| Certificate: | CE, ISO9001:2015 and etc. |
| Terms of payment and delivery: | Pay 30% deposit before producing and70% balance against copy of documents |
| Minimum order quantity: | No minimum  |
| Price: | Consultation |
| Packing details: | Box Packages |
| Delivery time: | 10~25days |
| Payment method: | Common way is by T/T. L/C is also acceptable. |